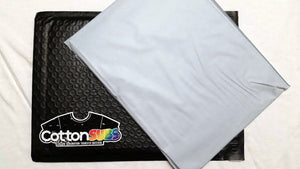 CottonSubs Transfer-Material
Sale price Price $33.08 Regular price $44.10 Unit price / per
MAKE SURE THIS PRODUCT IS WHAT YOU WANT BEFORE PURCHASING.  CottonSubs (Original) IS "SUBLIMATION MATERIAL", NOT "PRINTABLE VINYL" AS OUR NEW PRODUCT  CottonSubs2.0.  WE WILL NOT HONOR ANY EXCHANGES NOR REFUNDS FOR MISTAKE PURCHASES MADE.  PLEASE TRIPLE CHECK YOUR PRODUCT BEFORE SENDING PAYMENT.  Thanks for Overstanding.
Cotton Sublimation Transfer Material 10.25" x 15.35"
This revolutionary technology now allows printing directly on to cotton material. Great for both light & dark colors. With a super soft feel to the touch.
Features: 
*Bright Vibrant Colors *Soft To The Touch *Breathable *Water Repellent *Good Washability
When ordering take note, Processing take 2-3 days, Delivery takes 2-5 days, depending on your location from Chicago.
 Application Directions:
Pre-press the garment with your professional grade heat press for 5 – 10 seconds to eliminate wrinkles & moisture.

 Place the CottonSub with the ROUGH side down on top of the garment.

MIRROR PRINT your design on sublimation paper.

If using a COLORED shirt, make sure your design completely covers the CottonSub or goes a little OUTSIDE the material so no white is visible after application. If using a WHITE shirt make sure your design stays INSIDE the material to eliminate Ghosting/ Bleeding.

Put the printed sublimation paper over the CottonSub. Press at 375 – 385 degrees for 60 seconds, if using adhesive sublimation paper a delayed peel is (7-10 seconds) is BEST.  Otherwise hot peel.

Wait at least 24 hours before washing. Turn inside out when machine laundry & drying.  For longer lasting, Best Results hand wash inside out & line dry.  After application Do Not iron directly on top of the CottonSub, direct heat will reactivate the ink.  If you need to press it, put parchment/butcher paper on top of the CottonSub & iron as needed.
For Advanced Applications refer to our YouTube videos
VIDEO #1
 M
y Intro / first time using CottonSubs
VIDEO #2
How To Contour Cut CottonSubs
VIDEO #3
How To Contour Cut CottonSubs Part 2
VIDEO #4
CottonSubs Box Designs / Quick Print, Tact, & Cut